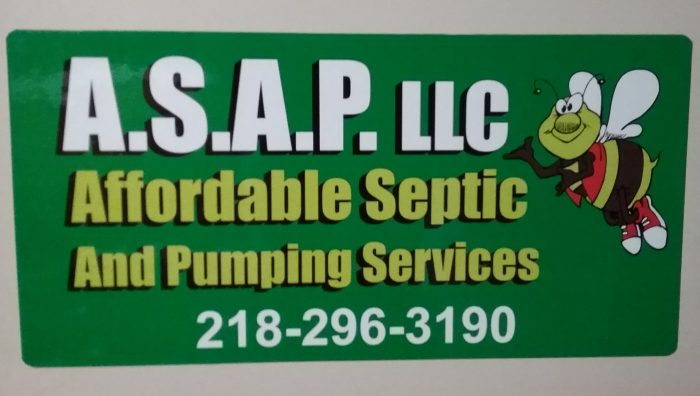 A.S.A.P. Affordable Septic and Pumping Services offers customers essential septic services in Motley, MN. Our goal is to keep your system running effectively and with minimal disruption, to save you the cost and frustration that comes with major septic problems.
Simple as their design may be, septic tank systems require homeowners to monitor them before problems arise. Usually, once a problem becomes obvious, it's too late for any simple septic pumping solution. Fixing big septic problems often requires thousands of dollars' worth of parts and labor. Fortunately, a little maintenance—including routine septic pumping—can go a long way in avoiding problems.
Septic Pump Replacement
A septic pump is at the heart of your system's operation. Unfortunately, it's also at the root of many problems and can often require septic repair in Motley, MN. If your pump is experiencing issues or isn't working effectively, count on us to replace the faulty pump for a new one.
We facilitate this process quickly and always test the new pump to ensure your system is ready for action once again.
Septic Tank Cleaning
It's recommended you have your septic tank cleaned out every 2-3 years. This process removes any foreign debris, sludge buildups or other inorganic matter that may be taking up space in the tank. The result is better efficiency and operation.
In addition to cleaning debris out of your tank, a thorough cleaning can also mean the introduction of enzymes, to balance out the septic environment. This promotes positive bacteria and helps improve the efficiency of your tank.
24/7 Emergency Services
Sometimes, septic issues can arise without warning. When they do, it's paramount to nip them in the bud before they become bigger and harder to remedy. Whether it's the middle of the afternoon or in the wee hours of the morning, contact our team for 24/7 emergency services. We respond to your call quickly, getting to work on solutions right away.
For septic services you can count on, trust A.S.A.P. Affordable Septic and Pumping Services. Call us at (218) 296-3190 for septic pump replacement, tank cleaning or 24/7 emergency help.